Certified Intervention Professional
Specialist Addictions Counsellor
Mobile: 07789 480286 Email: bill@redchair.co.uk Website: www.redchair.co.uk
Bill Stevens is the co-founder of RedChair an addiction specialists based in Manchester, which operates across the UK and Europe. He has 19 years of experience as a psychotherapist, working with all aspects of behavioural and substance addictions. Bill is eclectic in his approach to therapy, yet his core training was focused upon: Rogerian, cognitive behavioural therapy (CBT) and transactional analysis (TA). More recently, Bill has developed his skills to include ACT Therapy – Acceptance Commitment Therapy. ACT Interventions, ACT Addiction Treatment. ACT for depression, anxiety, codependency to name a few.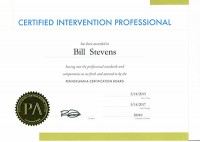 Bills experience as an Interventionist has led him to host and run training days in Manchester and London. Bill is pleased to have presented and run training for other professionals.
Bill is a pioneer in the quality of care within the addictions sector and is concerned that many do not adhere to basic standards.  Being the only independent CIP (Certified Intervention Professional) fully registered interventionist in the UK, Bill's accreditation means that he has ensured ethics, good practice, supervision, personal development and insurance issues are addressed on the client's behalf. Bill is a full member of the AIS, the Association Of Intervention Professionals. He is a board registered member and a  Certified Intervention Professional.
Bill has extensive experience addressing many types of addictions, such as alcoholism, drugs, gambling and sex, to name but a few. In his time as a psychotherapist, Bill has become an expert in intervening at certain stages in a person's addiction. This point can arise through training families, employers and those in educational settings.
For over 10 years he was employed at The Priory Group in Altrincham as an addictions counsellor. After his work with The Priory, Bill went on to work with Wolverhampton Wanderers Football Club, as their sports therapist.  At the club, Bill was responsible for the mental and emotional performance of the team and staff. He excelled beyond measure at the club and this was openly documented in the national press. He was bought in when the team were experiencing a drop in form whilst in sight of promotion to the premiership.  Bill is proud to point out that after a crucial meeting with the first team and lots of input thereafter, the club was promoted and still in the Premiership when Bill left 2.5yrs later.
Bill is a regular on the BBC, local TV and Radio as well as national. He is in the press discussing Family Interventions, the arguments for legalising drugs and on many other aspects of drug and alcohol issues within society today.
Bill has added to his experience recently with contracts to support, guide and advise those who are employed in television production. Much of this specialist work was for cast members who needed to tackle highly challenging roles at an emotional level.