"addictive character types like us need to keep busy"
ACT Addiction Recovery Plan
Personal
Planned
Purposeful
Private
ACT Recovery Programs
ACT addiction therapy programs provide a flexible process of change, comprising many elements and factors. Your ACT program helps you walk out of ACTive Addiction towards ACTive Recovery, best defined as "living the choice of rich and meaningful life you aspire to".
ACT recovery programs are tailored to your specific addiction/behaviour. Rooted in the science, ACT – Acceptance Commitment Therapy, forms the foundation for all the important areas of your life – Health, Family, Work, Society. Addiction gives way to Values, Actions and therefore consequences that most benefit who and what really matters to you.
ACT Recovery Programs start with you, work for you and by design, move you out of addiction and into your chosen valued life. You can start your program right now. Here are the core steps.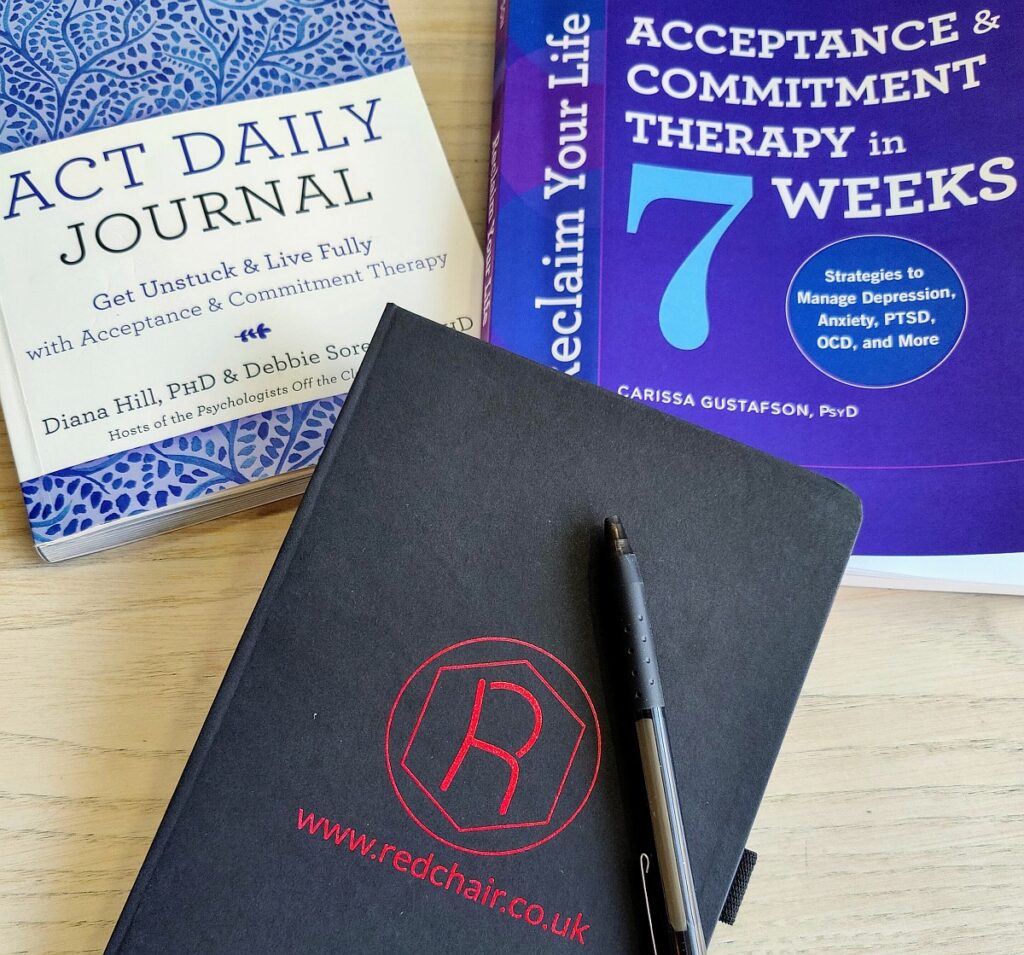 RedChair Recovery – ACT in Practice
"A program of change for Addictive Character Types like us"
You will need A Pen. A RedChair Recovery Notebook – (Free with your RedChair Recovery ACT Program & Therapy) and the following workbooks.
Reclaim Your Life. Acceptance Commitment Therapy in 7 Weeks – Carissa Gustafson, PsyD
Amazon Book Here Or Kindle Version Here or Audible Version
ACT Daily Journal. Get Unstuck and Live Fully with Acceptance Commitment Therapy. Diana Hill, PHD & Debbie Sorenson, PhD
Amazon Book Here Or Kindle Version Here
Completing the ACT 7 Weeks workbook alongside the ACT recovery journal, in conjunction with your face to face therapy for the best possible results.
| | | | |
| --- | --- | --- | --- |
| ACT Core Elements | ACT Program | ACT 7 Weeks | ACT Journal |
| Defusion | Week 1 | Page 35 | Page 63 |
| Acceptance | Week 2 | Page 51 | Page 87 |
| Present Moment | Week 3 | Page 71 | Page 37 |
| Self | Week 4 | Page 89 | Page 113 |
| Values | Week 5 | Page 101 | Page 137 |
| Committed Action | Week 6 | Page 147 | Page 163 |
Freedom comes with consistent persistent quality daily habits. Alongside your face to face therapy, you will find great benefits from making time each morning to follow the workbooks. Prior to your first therapy meeting, you will benefit from reading the introductions to ACT in both publications.