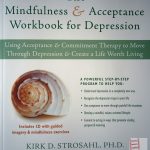 Acceptance Commitment Therapy ( ACT)
ACT as therapy or ACT as training invites you to notice when you are stuck in unwanted thoughts and behaviours, then to move into values and actions towards a rich and meaningful life.
Painful experiential testimony suggests attempts to control depression and thoughts does not work in the long term.  With ACT we accept thoughts and feelings but may not engage with them if they do not support our values in the here and now. Accepting depression appears to be a paradox, yet in that paradox is the freedom to move, to experience, to live. Having depression is different to being depressed. One is flexible, the other is not.
When we accept all human feelings and thoughts, we have a choice. "if I buy these thoughts and feelings, then let them guide my life, do they move me towards or away from who and what I believe are important to me?"
Depression is not an endpoint, rather an invite from yourself, to yourself, to make some changes.
In order to suffer from depression, I have to do depression. Depression is behavioural, yet I am trapped in my thoughts and feelings. ACT invites you to defuse from thoughts and avoidant behaviour, that in the context of your world, to attach behaviours to values and be available to live and experience the consequences.
ACT treatment for depression can either be in a small group or with your counsellor on a one to one basis. Our clinic is in Wilmslow serving Cheshire and Manchester. We are a bespoke private service.